Pleased to announce
Tycho: Play Quizbowl and Science Bowl
! Tycho is a free app for both iOS and Android to help teams study and read packets for quizbowl and science bowl while on the go or during practice. Originally, Tycho was an app released in Jan. 2017 to help science bowl teams practice better, but we recently decided to add in quizbowl questions. Questions are provided from the database of QuizDB, which in turn come from the Quizbowl Resource Center.
What makes Tycho different?
- All questions (80,000+ quizbowl tossups and all science bowl sample questions) are
available offline
; so this app works well for teams on the go.
- There is an
audio mode
that utilizes text-to-speech to allow tossups to be read out loud.
- Currently, you can select a specific set and packet to read -- so, think of it like a mobile, offline version of quizbug and/or quizbowlpackets.com. Searching by category / terms are a feature that will be added soon.
- Allows teams to practice both for quizbowl and science bowl, and possibly more competitions in the future.
- This app is under active development and open to feedback or criticisms the community may have. We've just recently branched out to quizbowl, so we'd welcome any feedback!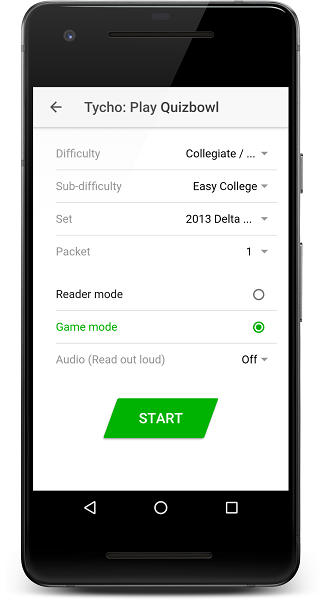 Give it a try! Learn more about it at our website:
http://outplayedapps.com/science-bowl/
Also, as Tycho is a hybrid app made using Ionic (HTML and Angular), you can also use Tycho online:
http://tycho.outplayedapps.com/
I haven't worked much on it so some things such as text-to-speech will need to be reimplemented and the design may need to be changed to make it better use the desktop's larger screen size, but it's there.
Note: The app is developed in Ionic 2, a cross-platform development platform to make both iOS and Android apps, and the source code is
available on Github
.